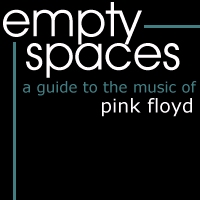 Band Members

Roger Keith "Syd" Barrett- Guitar, vocals (replaced 1968)
Born in Cambridge on January 6th, 1946. He led a fairly
comfortable middle-class life, and attended a reputable high
school where he was two years behind Roger Waters. He was
very musically-oriented throughout his life, and he played
the ukelele, guitar and bass, trading riffs and lessons with David
Gilmour at school in Cambridge. Syd eventually moved to London
to study painting, where he shard a flat with Roger Waters, and the
"Pink Floyd Sound" was close to follow. Syd embraced the drug-filled
counter-culture of the late 1960's, and unfourtunately his gift for
songwriting suffered consequently. His lyrics of child-like imagery
and simple stories fit well with the climate of the Summer of Love,
yet were ultimately supplanted by his addled mental state. Though
he was expelled from the band, he made sporadic attempts to regain
his position in the music gravy train, but in the end he settled on the
quiet life in England, where he still lives today. Though sometimes he can
be spotted ambling around town, he is clearly a different person from the
"Syd" persona of the '60's, but his contribution to Pink Floyd as well
as to modern music is everlasting.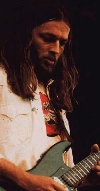 David Gilmour- Guitar, vocals
Born in Cambridge on March 6th, 1947. After the aforesaid encounters
playing guitar with Syd, David had been touring Europe in his late
teens with his band Joker's Wild. He was brought in to support Floyd
with their unpredicably frontman, and he eventually supplanted the
creative locus of the band. Over time, his melodic guitar playing became
center of Floyd's music, especially since the departure of Roger Waters in
1985. The ego clashes between he and Waters were quite obvious, but his
guitar playing formed the backbone of each record that Floyd made, adding
a blissful backdrop for Waters' poignant lyrics. He is the main creative force
behind the modern incarnation of Pink Floyd sans-Waters, and though he has
taken some time out recently to devote his energy to family life, he maintains
that a new Floyd album will be coming in the future.


Nicolas Mason- Drums, percussion
Nick was born on January 27th, 1945, in Birmingham. He grew up in a
very affluent neighborhood, in a financially secure family, and attended an
exclusive high school. He eventually enrolled in the Regent Street Poly-
technic Institute, where he met Waters and Rick Wright, indeed he actually
shared a flat with Wright. Nick layed down the rhythm for Pink Floyd
throughout the decades, and he has the distinction of being the only member
to play on each Pink Floyd album.

George Roger Waters- Bass, vocals
Roger Waters was also born in Cambridge, on September 9th, 1944. He
grew up in Cmabridge and went to the same high school as Syd Barrett.
Always the political activist, he eventually adopted a socialist stance. He
met his future bandmates at the Regent Street Polytechnic. Though Syd was
the intitial creative locus in the band, he departure left Waters free to lyrically
explore the boundaries of madness, capitalism, isolation, as well as the death
of his father during World War II. He has been described as haveing a healthy
ego, which no doubt precipitated the rift between he and Gilmour. When he
quit the band in 1985, he assumed that it would collapse without him, which it
didn't, but he was free to pursue his vision in a solo career. He has maintained
his activism, holding a benefit performance of The Wall in Berlin. To Floyd
fans, he is seen as an exceptionally gifted lyricist, and hopes for a triumphant
reunion with Gilmour tug at every Floydian's heartstrings.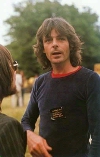 Richard William Wright- Keyboards, vocals
Rick was born in London on July 28th, 1945. Rick also attended an exclusive
high school before moving on to the Regent Street Polytechnic Institute. He
added keyboard accompaniment with simplistic grace, though he occasionally
contributed with other instruments like the trombone in "Biding My Time." His
role and creative output in the band was challenged by Waters during the Wall
tour, and Rick was told that he was fired from the band at the conclusion of the
brief tour. After Waters left however, Rick helped out Gilmour in making the
MLOR album, although he was not listed as an official member of the band. But
during the making of the Division Bell album, he once again joined Gilmour and
Mason in the creative process, this time on equal footing. Recently, he has
written a solo album entitled Broken China, evidencing that his musical ability
is still prime, and hopefully will be released in a new Floyd album soon.